Care homes should have several different types of employees across a variety of areas; from front of house staff and activity coordinators to compassionate carers and everyone who keeps the home running behind the scenes, like maintenance managers and housekeeping.
Here, we've explained the different roles of everyone working in a care home. Some of these roles don't require specific qualifications, while roles like nurses require specialist training.
Kickstart your care search
Discover the best care homes in your area through Lottie.
Find your nearest care home
---
The Different Types Of Carers
Care Assistants
These are the staff members who provide personal care to residents and spend time with residents daily. A care assistant may assist with washing and dressing and administering medication.
The care team are often given training to ensure they stay up to date with the latest care methods and techniques. There are many different roles within direct care, and we've explained two of the most common ones below.
Registered nurses
Nurses are most commonly found within a nursing care home. A nurse in a care home will deliver specialist medical care to residents with greater care needs.
It is a nurse's responsibility to monitor and review the health and care of residents and adjust plans to account for any new treatment or changing medical requirements.
There always needs to be at least one nurse present in a nursing care home, so some work in the evenings and on weekends is necessary. Registered nurses will also have a nursing qualification, such as a degree.
Depending on the care home, a nurse may provide respite care, post-surgical and rehabilitation care or end of life care, often within a palliative care home.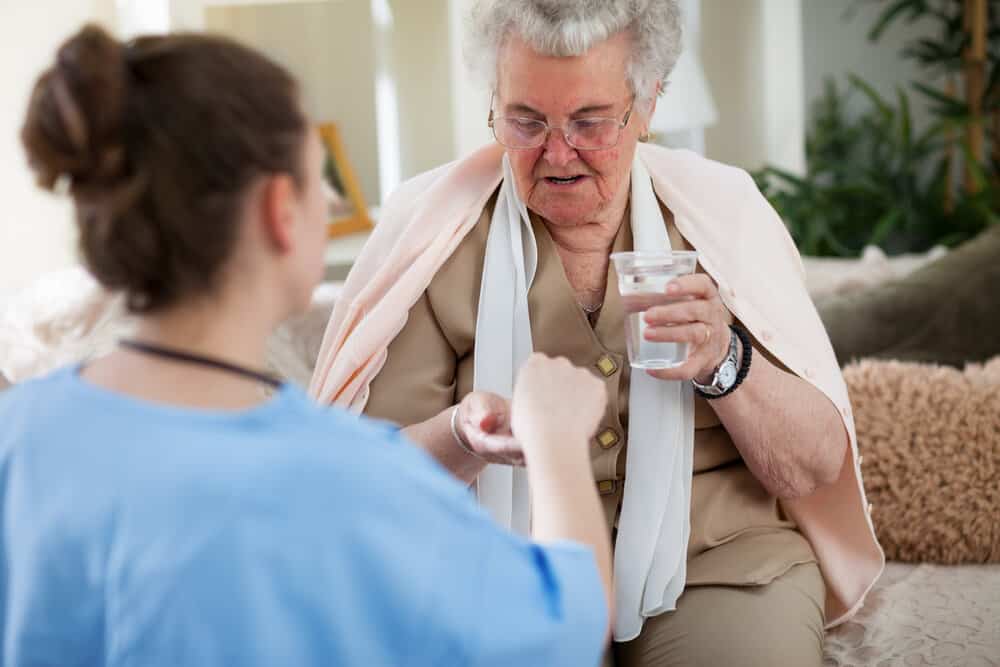 ---
Care Specialists
There are also a variety of care specialists who will offer a number of services and treatments to residents. A home may employ care specialists, but they often work on a consulting basis and will visit a home when their specialist services are required.
We've listed four of the most common types of care specialists who work with care homes below.
Occupational therapists
These assist residents with physical, mental or social conditions. They help residents identify tasks they find difficult daily and then work with residents to find practical solutions.
Occupational therapists usually have a degree from – and are registered with – the Health and Care Professions Council (HCPC).
Social workers
A social worker plays a vital role in the mental wellbeing of care home residents and their family members. A social worker will visit a care home and provide emotional support, counselling and advocacy where needed.
Opticians
Regular eyesight tests become increasingly important as we get older. That's why several providers offer visiting services to care home residents. Here, thorough eye tests and eye health checks are carried out, helping diagnose eye conditions. A visiting optician may also recommend glasses for purchase if needed.
Dentists
Community dental services often provide visiting dental care to care home residents. Alternatively, residents can be taken to a specialist health centre or mobile clinic and receive treatment there.
---
Management
Care home manager
The role of a care home manager is an extremely important one. They're effectively the face of the care home and are responsible for all aspects of its day-to-day operations, including recruiting, managing and training staff, along with finance tasks like budgeting and assessing the quality of care services the home provides.
Managers also answer questions from and give information and advice to potential residents, existing residents and their family members. Care home managers dedicate a portion of their time to paperwork and admin duties.
Good English, numeracy and digital skills are needed to be a care home manager, as well as leadership, problem-solving skills and a positive attitude. You may also be required to have a Level 5 Diploma in Leadership and Management for Adult Care.
Deputy manager or team manager
In large care homes, there might also be a deputy manager. Deputy managers - also known as team managers or team leaders - are responsible for supporting the senior manager in leading the care team and providing care needs assessments to residents.
Customer relationship manager
A customer relationship manager serves as the first point of contact for any customer enquiries, including providing tours, managing the sales process and assisting with the move-in process.
A customer relationship manager will also form strong relationships with local authorities and the local community as a whole.
---
Day-to-Day Care Home Life
Activity coordinators
An activity coordinator ensures that residents have a brilliant time within a care home! They do this by organising activities for residents to participate in and other fun events and day trips.
Activity coordinators are also responsible for booking entertainers, organising transport (unless there's a dedicated transport manager) and any other logistical tasks.
Some of the most popular activities offered in our partner homes include:
Painting
Baking and cooking
Book clubs
Gentle exercise
Wellbeing classes
Garden games
Gardening and flower arranging
Visits from local schoolchildren
When your loved one joins a care home, they'll often be asked about their interests and hobbies, to give the activity coordinator a better understanding of what activities to organise.
Catering
Catering staff in a care home serve delicious and nutritious meals three times a day, along with snacks and hot drinks.
Some residents will have specific dietary or cultural requirements that need catering to, such as kosher, halal, gluten-free, vegetarian, vegan and diabetic.
Kitchen assistants do the following:
Check that ingredients are in stock
Order supplies as necessary
Maintain a high standard of hygiene
Dietitians
Care homes and nursing homes usually have a registered dietician who works part time, full time or on a consultancy basis.
Diet is incredibly important for older adults, especially those who may have specific dietary requirements and health needs. A registered dietician will work with the care home to assess residents' needs, adjust diet plans and make recommendations to the catering staff.
Driver or transport manager
Many care homes have their own vehicle, such as a minibus. In this case, a driver will provide transport for residents as they venture off on fun days out!
A driver may also need to take residents to and from various appointments, such as at the hospital.
If a care home doesn't have a dedicated driver, they can instead partner with local mobility companies in their area to organise transport.
---
Admin and Maintenance
Cleaning and housekeeping
Cleaning and housekeeping staff will keep a care home looking tidy. Day-to-day tasks include laundry, making beds, sweeping, mopping and dusting bedrooms and communal areas.
Keeping a care home tidy is important for health and safety, as it minimises the chance of there being any safety or tripping hazards.
Maintenance
A care home can't function properly if it isn't well-maintained. The larger the care home, the more maintenance it needs. Gardeners, builders, plumbers, electricians and technicians might all be hired to help maintain a care home, tend to the grounds and ensure the building is safe and hazard-free.
Administration
Several other types of care home employees play a vital role in the day-to-day running of a home. These include administration staff covering human resources, accounting, marketing roles and more.
---
Lottie matches care seekers with the best care homes for their needs. You can request a free care home shortlist from our care experts, who will share homes matching your budget, location and type of care needed. You can also search for a care home through our easy-to-use directory.