Palliative care offers physical, emotional and practical support to people with a terminal illness. This type of holistic and personalised care looks after every part of somebody, with an aim to make them feel supported and comfortable.
Here, we've explained more about palliative care and end of life care, where to get it and the support offered in a palliative care home.
Need to find palliative care fast?
Discover the best palliative care homes for your loved one.
Find palliative care today
---
In this article on palliative care homes:
---
What is Palliative Care?
Palliative care is a specialised form of medical care for people with serious or terminal illnesses, including somebody living with an advanced stage of dementia or cancer. Palliative care focuses on providing relief from the symptoms and difficulties that come with a condition like this.
The ultimate goal of palliative care is to keep you or your loved one as comfortable as possible while improving quality of life for everyone concerned, including the person receiving care, their family and friends. Here, dignity in care is of the upmost importance.
This type of care is sometimes called 'supportive care' and also offers emotional support during this upsetting and difficult time. Family and friends may be able to speak with professionals who can offer practical and emotional support.
Palliative care is usually more hands-on than the support given in a residential care home, with residents receiving round-the-clock support in a calm and safe environment.
Where can I find palliative care?
You can have palliative care in several different places, including:
At home
In a hospital
A hospice
Many of our approved care homes near you provide palliative care. Each home states the additional elderly care options it offers, with one of these being palliative care (see the example below from Jubilee House Care Home in Surrey.
Alternatively, can use the NHS to find palliative care services.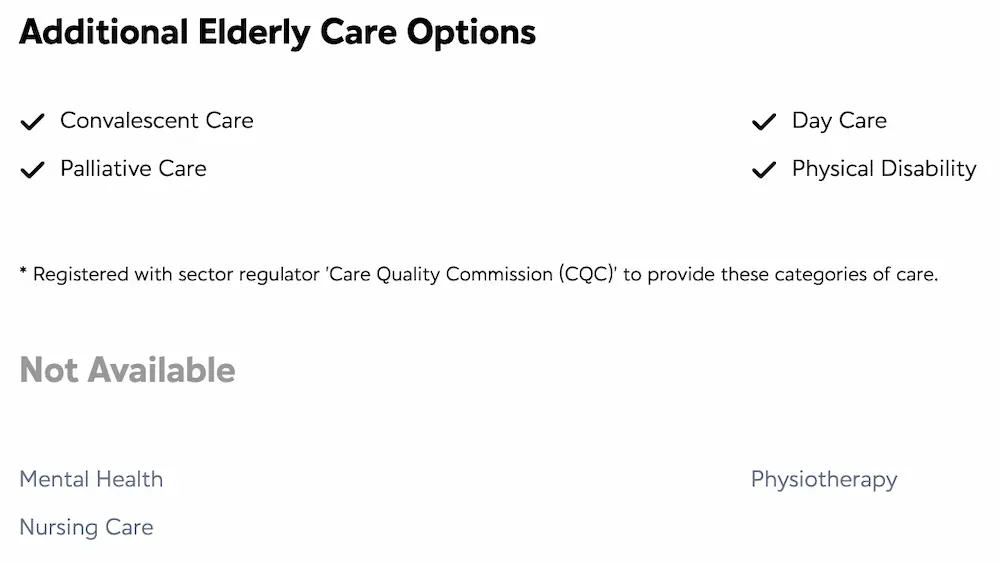 Is palliative care free?
NHS healthcare is free for UK residents who have been assessed as needing it. Many parts of palliative care are offered through the NHS, including support from your GP and other health and social care professionals.
Sometimes, you might have to - or choose to - pay for certain types of support, including social care. The amount of help you get from your local authority with care funding will depend on where you live and your financial situation.
---
When Should Someone Be Offered Palliative Care?
Palliative care should be offered when your loved one has a serious or terminal illness and they require intensive treatment to ease the pain of this condition and best manage it. In some cases, palliative care will completely cure a condition.
Palliative care can begin at any point during your loved one's diagnosis and will sometimes lead to end of life care or hospice care. Some people may choose to receive end-of-life care at home, rather than in a care home. This can then often be supported by the expertise of a care home or hospice.
---
When Is It Appropriate?
Your loved one can start palliative care at any stage of an illness - even as soon they receive a diagnosis or begin treatment. They don't have to wait until an advanced stage of a condition or when they're in the final stages of their life. Often, the earlier palliative care begins, the better. There are five stages of palliative care.
There are a few things to consider when it comes to deciding if palliative care is the most appropriate type of support for your loved one or somebody else. To begin with, there may be a discussion regarding the kind of care your loved one would like to receive, how they'd like their condition managed and how they'd like to live their life.
Points to discuss could include:
The type of condition and what treatment is available
Although your loved one may not know exactly how long they'll have their condition and whether or not they'll pass away from it, it's still important to find out what sort of symptoms they can expect and the treatment options available. This way, they'll be able to make the most informed decision possible.
Once your loved one has decided how they'd like to proceed, palliative care can then be put in place to help them manage treatment, along with any other daily tasks.
Wishes and expectations
Your loved one may initially decide on a course of treatment before finding that the side effects are simply too difficult to manage and they'd prefer to stop treatment altogether. Your loved one may also decide to begin treatment after initially being able to manage their condition without any medication.
Whatever your loved one chooses, the main thing is that they're at the core of this decision-making process while being supported by family and friends.
---
What Conditions Qualify For Palliative Care?
Palliative care is normally offered to anyone with a life-limiting illness - one that usually can't be cured.
Several conditions and illnesses can fall into this category, with some of the most common including:
Advanced forms of cancer
Chronic lung disease
Motor Neurone disease
Parkinson's disease
Advanced forms of dementia
Advanced heart disease e.g. congestive heart failure
And here are some of the symptoms that palliative care may address:
Pain
Nausea and vomiting
Coughing
Loss of appetite
Shortness of breath
Confusion
Difficulty sleeping
---
Why Would a Doctor Suggest Palliative Care?
There are a few reasons why a doctor would suggest palliative care for yourself or your loved one, including:
Being diagnosed with a life-limiting condition
A doctor may first approach the topic of palliative care after diagnosing your loved one with a terminal condition. This doesn't necessarily mean they want you to immediately start on a palliative care plan. You may want to begin thinking about the coming months and years, so the right plans can be put in place for yourself and your loved one.
To complement other treatments
Palliative care doesn't replace othe medical treatments and it doesn't mean that doctors are giving up on your loved one. Instead, palliative care may be started at the same time as other treatments - such as radiotherapy - to prolong your loved one's life.
Because the condition is incurable
Your loved one may be offered palliative care when their medical team feels there's no further curative treatment available. At this point, the focus will shift to symptom relief and making your loved one feel as comfortable as possible. The goal will be to minimise the effect this condition has on your loved one's day-to-day life for as long as possible.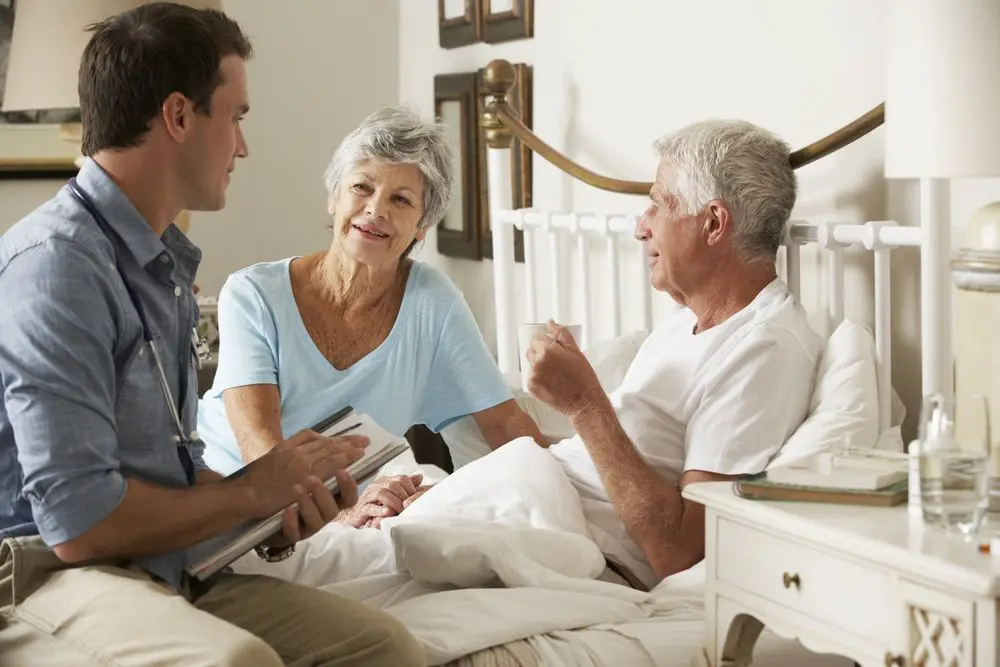 ---
What Else Needs Arranging Alongside Palliative Care?
Advanced directives
A set of documents outlining your wishes for when you're no longer able to communicate them yourself.
Power of attorney
A person you entrust with future medical and life decisions when you no longer have the capacity to make them yourself. The most common type is a Lasting Power of Attorney.
---
How Do Palliative Care and Hospice Care Differ?
It's often wrongly assumed that hospice care is something somebody has when they're about to pass away. This isn't actually the case.
At their core, hospice care and palliative care are the same things. They're both specialist forms of care designed to provide pain relief and emotional support while controlling symptoms so your loved one can get the most out of daily life.
The only major difference between the two is that palliative care can be provided at home, while hospice care usually requires your loved one to stay in a hospice facility.
If your loved one has an advanced illness, hospices can provide a safe haven for receiving complex care, without needing to be in a hospital setting.
Benefits of a hospice include:
They're free to use
You can access a team of specially trained doctors and nurses who will provide a wide range of medical services
Many also provide social activities, counselling and alternative therapies
There's no set time limit for how long you can stay
Some offer day services and support
Some provide respite care and breaks for people who are becoming a carer for a family member - much like in a respite care home
---
What is End of Life Care?
End of life care is compassionate support for people who are in the last months or years of their life. End of life care should help you or your loved one to live as well as possible until you pass away with dignity. The people providing end of life care should take any wishes and preferences into account when planning care.
They should also support other family members, friends, carers and anyone else who is important to yourself or your loved one.
You have the right to express wishes about where you'd like to receive end of life care and where you'd like to be during your final days; whether this is at home, in a care home, in a hospice or in a hospital.
Where can you receive end of life care?
Different health and social care professionals may be involved in your or your loved one's end of life care, depending on their personal needs. Hospital doctors and nurses, a GP, community nurses, hospice staff and counsellors may all be involved, along with social care staff, chaplains and physiotherapists.
If you're receiving home care or are being cared for in a care home, your GP has an overall responsibility for your care.
If you or your loved one require end of life care and want to find out what support is available, the first step is to speak to your GP. If you're unsure, call the number your healthcare provider has given you. Part of their job is to help you understand what local services are available.
End of life care can be provided in a care home, with staff supporting your loved one with round-the-clock, 24/7 support.
When does end of life care begin?
End of life care should begin when you or your loved one need it. It could last a few days, a couple of months or more than a year. People in lots of different situations can benefit from end of life care.
People are considered to be approaching the end of life when they're likely to pass away within the next 12 months, although this isn't always possible to predict. This includes people who:
Have an advanced incurable condition
Have a life-threatening acute condition caused by a sudden event such as an accident or stroke
---
Are Palliative Care and End of Life Care the Same?
No, they're different. Although it can include end of life care, palliative care is much broader and can last for longer. Your loved one may receive palliative care for years before they pass away.
End of life care offers treatment and support for people near the end of their life. This is normally offered to people who are thought to be in the last year of their life. End of life care aims to provide an individual with as much comfort as possible for the time they have left, while also sorting out practical things like wills and wishes.
---
Providing Physical Comfort
Your loved one being in pain can be an upsetting time. This can be stressful for family members, particularly if you aren't sure how to help. Providing support is vital as maintaining relationships will help your loved one feel less alone, with research showing that people with caring support systems are better equipped to deal with their symptoms.
By asking your loved one what they need help with, you can get a better understanding of their symptoms and what they're going through on a daily basis. Meanwhile, encouraging positive thinking, offering an understanding ear and respecting their boundaries can all go a long way to making your loved one as comfortable as possible.
As your loved one nears the end of their life, discomfort can arise from a variety of places. Your loved one may be uncomfortable because of:
Pain
Breathing problems
Skin irritation
Digestive difficulties
Sensitivity to temperature
Fatigue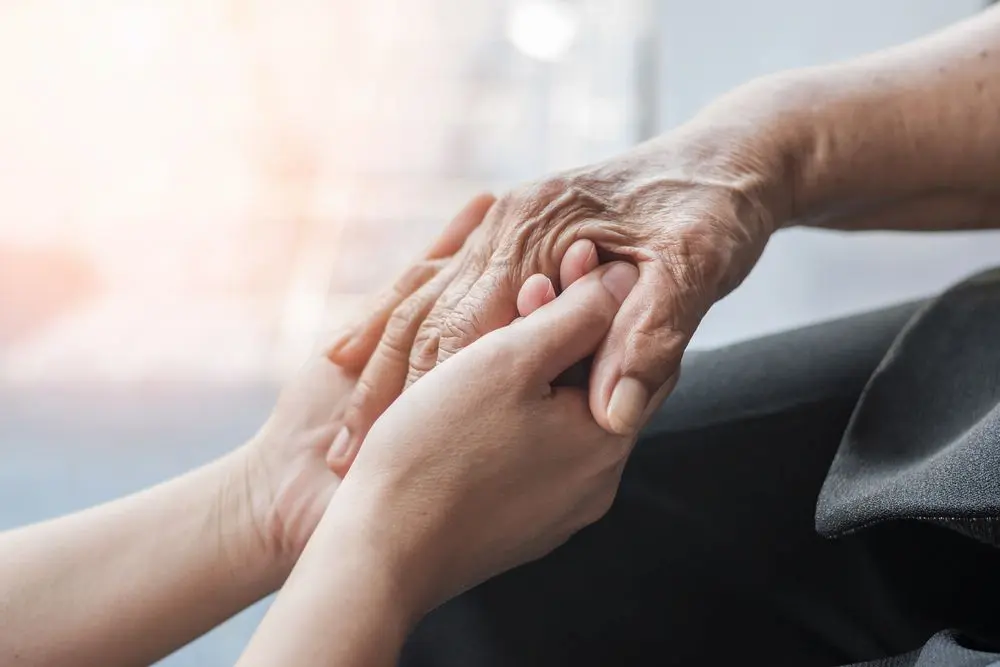 Pain
Not everyone near the end of their life experiences pain. For those who do however, experts believe that care should focus on relieving this pain.
Remember that pain is easier to prevent than relieve, and severe pain is hard to manage, so don't be afraid to give as much medicine as has been prescribed by a doctor. Palliative medicine specialists are experienced in pain management, so consider consulting one of these if the level of pain your loved one is experiencing gets ahead of the pain-relieving medicines.
Feeling upset is a common emotion when your loved one is in pain. To help yourself cope with this situation (and further help your loved one), listen to everything they're saying, remain open, encourage positive thinking, research their condition and invite them out socially where you can.
You can find more information here on pain management support from Marie Curie.
Breathing difficulties
It's common to experience shortness of breath towards the end of life. To make breathing easier for your loved one, try raising the head of the bed, opening a window or using a humidifier or a fan to circulate air in the room. This can be distressing for all concerned, so please ensure that your loved one is as comfortable as possible - and remember to look after yourself as well.
Skin irritation
Keep your loved one's skin clean and moisturised to help them feel as comfortable and relaxed as possible.
Turning your loved one in bed every few hours may help prevent bed sores and stiffness. Try putting a foam pad under their heel or elbow to raise it off the bed and reduce pressure.
Digestive difficulties
Nausea and a loss of appetite are all common at the end of life. Causes and treatments vary, so talking to a doctor or nurse about what you're seeing is often the best course of action.
If your loved one loses their appetite, try gently offering their favourite foods in small quantities. Smaller but more frequent meals can work better than three larger ones. If your loved one doesn't want to eat though then they shouldn't be forced. Losing your appetite is a completely normal thing to happen towards the end of life.
Sensitivity to temperature
Your loved one's hands, arms, feet or legs may be cool to the touch. Your loved one may struggle to communicate that they're too hot or cold, so be sure to watch out for clues.
Someone who is too warm may repeatedly try to remove a blanket, In this case, you can do away with the blanket and instead place a cool cloth on their head.
Shivering is a common sign of feeling cold. Make sure there's no draft, raise the heat and add another blanket if needed.
Fatigue
As your loved one nears the end of their life, they may feel tired and have little energy. Remember that this is perfectly natural and the best thing to do is keep things simple. For example, simple steps like providing a stool so they can sit in the shower can go a long way to easing these feelings of fatigue.
---
Managing Emotional Needs
End of life care and palliative care can also include helping your loved one manage their emotions. As your loved one nears the end of their life, they may feel understandably upset or anxious.
You might wish to contact a counsellor - possibly one familiar with end-of-life issues - to encourage conversations about how your loved one is feeling.
Your loved one may also have some specific worries, including that of the unknown, those left behind or being alone at the very end. At this time, having someone to openly talk to becomes more important than ever.
Here are some other tips to help manage emotional needs:
Provide physical contact, including holding hands and gentle massages
Create a comforting mood
Play music at a low volume for better relaxation
Involve your loved one in any decisions and ask what they need
Be present as much as possible
---
Spiritual Needs
For somebody nearing the end of their life, spiritual needs may be just as important as their physical ones. Spiritual needs could include finding meaning in one's life and making peace with circumstances. Many people find solace and comfort in their faith.
Family and friends can talk to somebody near the end of their life about the importance of their relationship. For example, adult children might share how their parent has influenced the course of their lives and grandchildren can let their grandparent know how much they've meant to them. Meanwhile, friends can share how much they value the years of support and companionship.
Sharing adored memories is another way some people find peace. This kind of experience can prove comforting for everyone involved.
---
Support With Practical Tasks
There are a number of practical tasks that need to be done at the end of life - both to help out the person receiving care and to support the caregiver. Somebody near the end of their life may be worried about who will take care of things when they pass away. In this case, a friend or family member can reassure them that their home and garden will be looked after. It's also worth letting them know that their personal affairs are in safe hands.
Family and friends can assist with everyday tasks that a caregiver may be struggling to find time for, including small daily chores like washing, taking phone messages, washing clothes, looking after pets or picking up medicine from the chemist.
Doing these things will ensure your loved one has as little as possible to stress about as they receive palliative care or end-of-life care.
---
Coping With Grief and Finding Support
During a time of loss and throughout the grieving process, a grieving person needs lots of emotional support. Finding this support can be the key to recovery and acceptance of this loss. Family members, friends, support groups, community organisations and mental health professionals can all help.
What's important is that the grieving person can navigate this process at their own pace.
Find local mental health services.
Find a local NHS urgent mental health helpline in England.
Find an NHS psychological therapies service.
Find a mental health service for young people.
The Widow's Pension (now Bereavement Support Payments) aims to lessen any financial worries surrounding losing a loved one.
---
Our Care Experts
Our care experts understand how overwhelming end of life care is. If you or somebody you know is in need of informed and compassionate advice then don't hesitate to get in touch.
---
Our Palliative Care Homes
If you choose one of our palliative care homes, your loved one will receive the best possible quality of life and support throughout their stay with us. A care plan will be created so all their needs are met, while family and friends are also offered support, advice and the opportunity to talk during this emotional time.
Our care homes state whether or not they offer palliative care, along with other forms of care and support.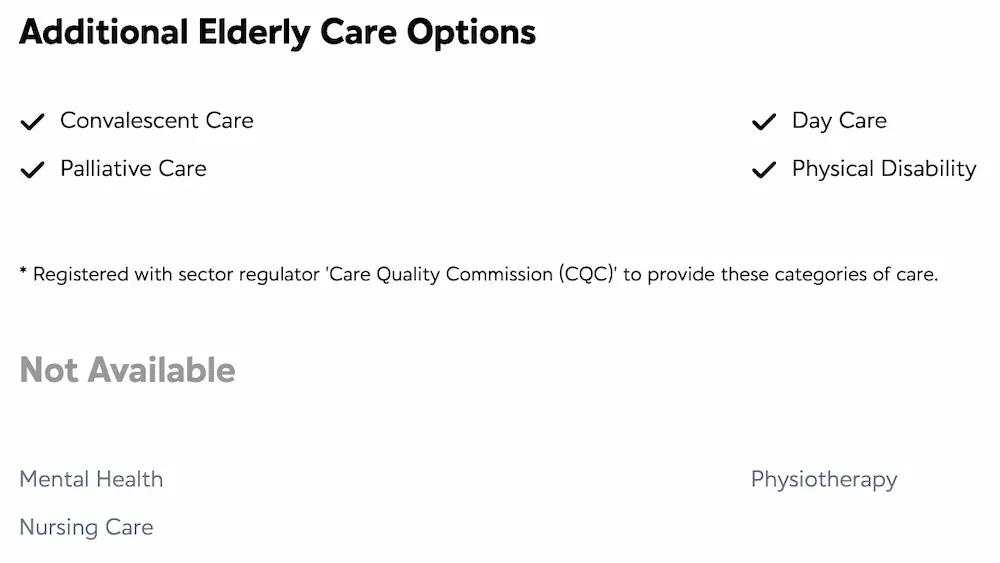 Below, we've listed five 'Outstanding' rated Care Quality Commission care homes in England that provide palliative care:
Amherst House in Surrey
This luxury care home in Horley, Surrey is set within a peaceful residential area. Amherst House Care Home has a skilled and experienced team who can provide compassionate palliative care, as well as round-the-clock nursing, dementia and residential care.
Amherst House is a great setting for personal care of a superb standard. Residents can enjoy stylish lounges and comfortable ensuite bedrooms. The beautifully landscaped gardens provide a peaceful environment for relaxation.
Amherst Place at a glance:

Cost of Care
Care starts from £1,400 a week
CQC Rating
Outstanding
Number of Beds
60
Is the Home Purpose Built?
Yes
Are Bills Included in the Price?
Yes
Are There En Suite Facilities?
All rooms have en-suite facilities
Interested in Amherst Place?
To book or get more information, call 01293 376270.
Call Now
Hartismere Place in Suffolk
Hartismere Place Care Home is an 'Outstanding' rated Suffolk care home, with the CQC praising the home and staff for delivering quality patient-centred care and person-centred care that focuses on the specific needs and preferences of residents. One of the main types of care offered at Hartismere Place is compassionate end of life and palliative care.
Every aspect of Hartismere Place incorporates finishing touches to help people living with dementia feel at home and be able to independently find their way around the home.
Hartismere Place at a glance:

Cost of Care
Care starts from £1,272 a week
CQC Rating
Outstanding
Number of Beds
60
Is the Home Purpose Built?
Yes
Are Bills Included in the Price?
Yes
Are There En Suite Facilities?
All rooms have en-suite facilities
Interested in Hartismere Place?
To book or get more information, call 01379 772524.
Call Now
Mercia Grange in Royal Sutton Coldfield
Another 'Outstanding' rated CQC care home that offers a range of care options, including sensitive and dignified end of life care, Mercia Grange Care Home in Royal Sutton Coldfield is sub-divided into smaller suites on each floor, helping to keep hustle and bustle to a minimum. This is particularly important for residents living with dementia.
Each of the home's 67 ensuite bedrooms are beautifully decorated and furnished. If your loved one likes the idea of being close to the garden, they can choose a room with direct access to Mercia Grange's lovely landscaped gardens.
Mercia Grange at a glance:

Cost of Care
Care starts from £1,446 a week
CQC Rating
Outstanding
Number of Beds
67
Is the Home Purpose Built?
Yes
Are Bills Included in the Price?
Yes
Are There En Suite Facilities?
All rooms have en-suite facilities
Interested in Mercia Grange?
To book or get more information, call 01216 615334.
Call Now
Mountfitchet House in Essex
Located in Stansted Mountfitchet, Essex, Mountfitchet House Care Home is a superb care home that can provide 24/7 nursing care and expert dementia care, as well as residential and sensitive end of life care for up to 60 older adults.
Mountfitchet House has two floors and is divided into four suites that create a 'home within a home'. This design helps residents feel calm and secure. Each suite has its own beautifully furnished lounge, dining room and set of ensuite bedrooms. Meanwhile, the dedicated team get to know each resident on an individual basis and tailors all care to their unique requirements.
Mountfitchet House at a glance:

Cost of Care
Care starts from £1,462 a week
CQC Rating
Outstanding
Number of Beds
60
Is the Home Purpose Built?
No
Are Bills Included in the Price?
No
Are There En Suite Facilities?
All rooms have en-suite facilities
Interested in Mountfitchet House?
To book or get more information, call 01279 598518.
Call Now
Sherwood Grange in London
At Sherwood Grange Care Home in Richmond upon Thames, London, the experienced team provide palliative care and end of life care in stunning, comfortable and calming surroundings. Every resident has their own furnished ensuite bedroom, while the in-house coffee shop serves as the home's hub.
Residents at Sherwood Grange enjoy a relaxing lifestyle that can be full of varied, enriching and meaningful activities if your loved one chooses to pursue them. Here, an exceptional and fully personalised level of care is delivered to all residents.
Sherwood Grange at a glance:

Cost of Care
Care starts from £1,540 a week
CQC Rating
Outstanding
Number of Beds
59
Is the Home Purpose Built?
Yes
Are Bills Included in the Price?
No
Are There En Suite Facilities?
All rooms have en-suite facilities
Interested in Sherwood Grange?
To book or get more information, call 0330 175 5381.
Call Now
---
The ultimate purpose of palliative care is to provide your loved one with whatever support they need to enhance their quality of life. A healthcare team will advise on when they think is the best time to begin a palliative care plan, but as long as your loved one has the capacity to decide then personal wishes should always be central to the decision.
Your loved one may wish to postpone care until a point where they can no longer manage without support. Or, they may wish to start a care plan straightaway, to gain access to emotional support. This may prove comforting if they're experiencing feelings of anxiety or sadness after a diagnosis.
---
Finding palliative care can be a stressful and time-consuming process during an upsetting time. Thankfully, we remove much of the difficulty from this process by connecting elderly people to the UK's very best care homes near you through years of human expertise.