If you or your loved one wish to receive some extra help with daily tasks within the comfort of your own home then home care may be the best option.
Often referred to as domiciliary care, there are several types of home care to choose from, with the main goal being to allow older adults to continue living an independent lifestyle while receiving support through a bespoke care plan.
Here, we've explained what home care is, the different types of home care and how to arrange it.
Looking for care?
Use our directory to find a care home near you.
Search All Care Homes
---
In this article:
---
What is Home Care?
Home care is when trained care staff travel to the homes of people who require some extra assistance and support. This is usually arranged through local councils or private agencies.
Home care is ideal for anybody who wishes to keep living in their own home, but could do with some extra help where day-to-day chores and activities are concerned. Help at home is most commonly used by older adults or people with injuries or disabilities.
All homecare workers are properly trained and DBS checked. Homecare companies normally require enhanced DBS checks to be taken when hiring to ensure they're up to date.
To further ensure the safety of you or your loved one, various regulatory bodies will monitor and assess home care agencies. They make sure that the performance of each agency is in line with good professional practice.
Homecare visits are often daily and will last for 30 minutes to an hour. If needed, these can occur several times a day. Another option is for you or your loved one to have visits known as 'sits'. These are longer, lasting for several hours at a time and involve a rotation of two or three care workers.
Care coordinators are there to best match you or your loved one with the most appropriate care worker or agency - based on location, availability and personality. Everyone will first be visited by a senior member of staff who will discuss needs, preferences and what type of care is needed (a needs assessment). This staff member will then create a care plan that care workers will use to deliver the best service possible.
Over time, you or your loved one will hopefully form a friendship with visiting carers, making the whole process feel more comfortable and relaxing for everyone.
Depending on the needs of you or your loved one, there are several types of home care available.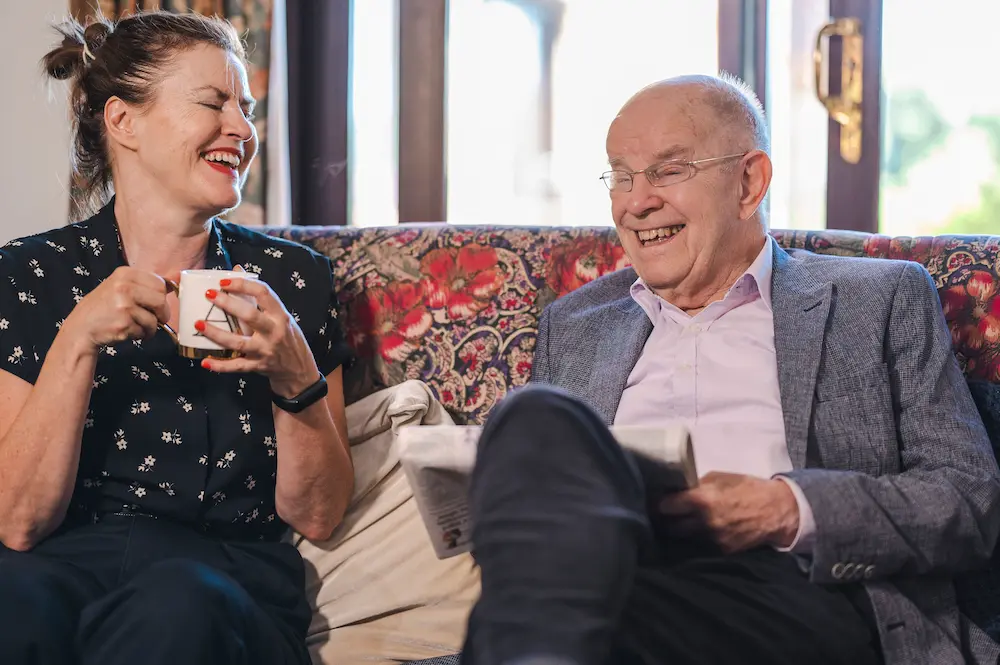 ---
How Does Home Care Help?
Home care is a really flexible care option for people who require extra support within their own home. This flexibility comes from the fact that care can be tailored to individual needs and can be provided for as much or little time as is needed.
Home care can assist you or your loved one with a variety of tasks, including:
Getting in and out of bed
Washing and other forms of personal hygiene
Brushing hair
Getting dressed and undressed
Using the toilet
Picking up prescriptions
Administering medication
Food preparation, cooking and cleaning
Providing transport to and from the shops and any social events
Financial tasks like paying bills or collecting pensions
Companionship
---
How Much Does Home Care Cost?
Home care costs will naturally vary across the UK, but the average tends to be around £15 to £30 an hour.
If you or your loved one require 10 hours of additional support every week, this would cost around:
£150 to £300 a week
£650 to £1,300 a month
£7,800 to £15,600 a year
More intensive and demanding forms of home care (such as nursing care) will cost more than standard forms of home care (such as personal care).
---
What is the Role of a Home Care Worker?
A home carer provides care at home which aims to be flexible and accommodating - with varying lengths of time to choose from. A home care worker will most commonly help out with daily housekeeping tasks while providing personal support and assistance with things like meal preparation, hygiene and any errands that need taking care of.
Duties can include:
Personal care
Mobility support
Any household chores
Collecting shopping, food preparation and cooking
Companionship care and a friendly face
Home carers will often support people through personal care - with the level of support varying on an individual basis. This personal care could include getting washed and dressed each morning, helping someone prepare and cook food, getting from A to B or light household duties. It all depends on what's required from person to person and from care plan to care plan.
On top of all this, home carers are often there to provide a friendly face and some much-needed company. One of the great things about home care is the relationship that can be formed between a home carer and the person they're caring for. Over time, a home care worker will become a trusted and reliable face who you or your loved one will be glad to see and share a cup of tea with.
Home carers can offer practical and emotional support, with the primary goal of allowing those that they care for to thrive and live well at home, regardless of any health complications or difficulties they may have. The focus is on promoting independence and offering assistance, rather than taking over and doing everything themselves.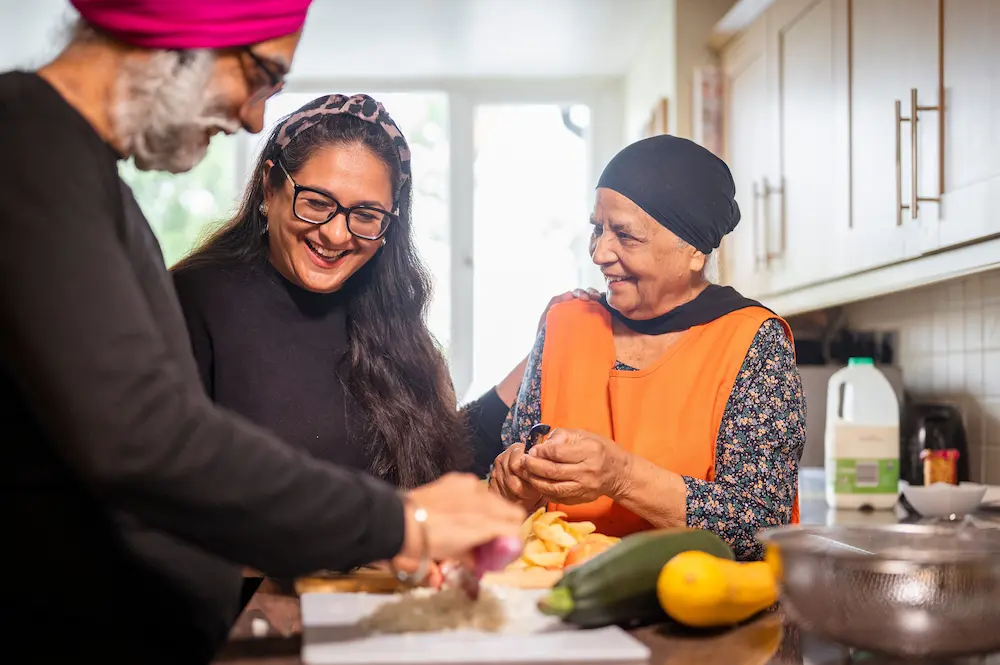 ---
What are the Different Types of Home Care?
There are several different types of home care, so the first step is choosing the right kind for you or your loved one. The number of options can make this a time-consuming process, which is why we've explained each type, so you can work out which is best suited.
While there may be multiple types of home care that each cater to slightly different needs, what they all have in common is a goal of providing happier and more independent living for people receiving care, along with being able to provide families with additional support and peace of mind.
Personal care
This is support with tasks that may become more challenging as a result of illness or the natural ageing process.
Through personal care at home, you or your loved one can be supported with daily tasks like:
Getting dressed
Getting in and out of bed
Morning washing
Using the toilet
Shaving
Food preparation
It's up to you or your loved one to decide what wants to be included in your personal care remit. What's most important is that all personal care is provided in a respectful and dignified manner.
Companionship care
Companionship care is a great choice if you or your loved one are fairly independent but have minimal contact with others. This type of home care involves a carer coming round to your house and keeping you company, often a few times a week for a couple of hours per visit.
Loneliness is a big issue across the UK, particularly amongst older adults, which is why having somebody to talk to and go to places with (such as the shops) can make such a huge difference to emotional wellbeing, confidence and social skills.
Dementia care
Dementia spans several forms, including Alzheimer's disease, Pick's disease and frontotemporal dementia.
Through dementia support at home, specially trained care workers will help your loved one with the following things:
Maintaining a routine and social life
Assisting with any personal care
Assisting with any day-to-day tasks around the home
Enabling them to live as independent a lifestyle as possible
These carers will be properly equipped to deal with challenging situations. Through regular visits, they'll get to know your loved one on a personal level, including any situations they struggle with and if certain times or locations cause them to become confused. Most importantly, they'll know how best to help your loved one if these situations arise.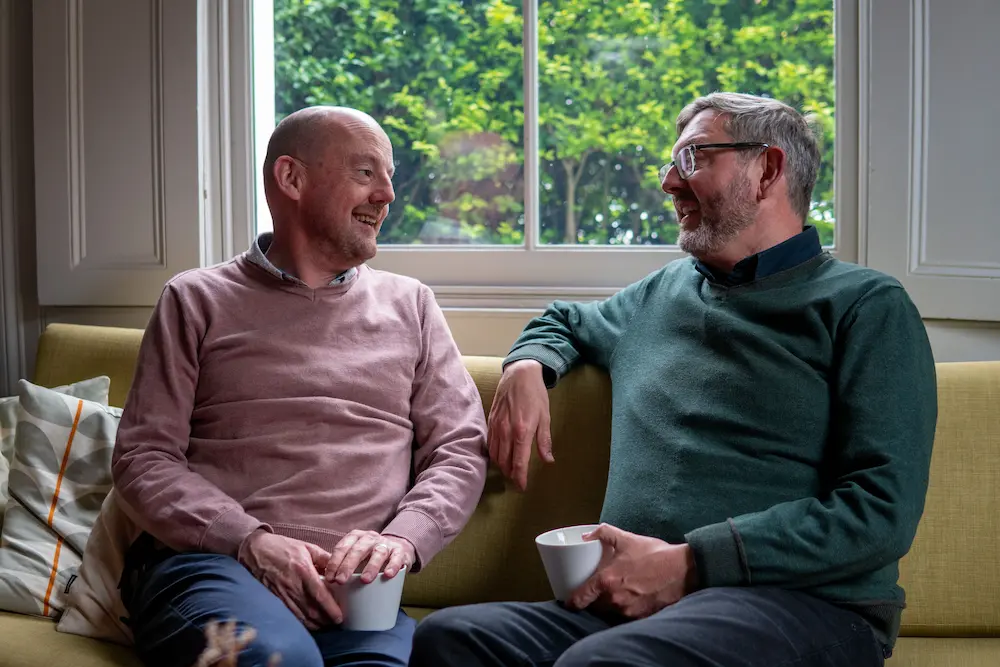 Respite home care
Respite care is a temporary service. If you're caring for a loved one then this will allow you to manage any other commitments or simply take a break. This break could involve going on a well-earned holiday.
Through respite home care, your loved one will be regularly visited in their home while you take this break for a few days or so. Respite care can take the form of daily or weekly care, or it could last continuously for several days.
The care worker assigned to you or your loved one will have been trained to assist with specific needs, including dementia and any disabilities.
Another type of respite home care is for people leaving the hospital who need some extra help while they recover. This can span people of all ages, as movement, performing daily tasks and taking medication can be difficult when recovering from surgery, an illness or an injury.
Live-in care
As the name suggests, live in care involves a care worker coming to live in the house of whoever is receiving care. If you need daily care, would benefit from some extra companionship and have plenty of space at home then this is a great option.
The best thing about live-in care is that regardless of how much extra support is needed, you or your loved one can maintain the lifestyle you're used to in familiar surroundings, including social commitments, pets and general living.
Just be aware that this particular type of home care does come with a couple of drawbacks. For one, the constant nature of this care can make it quite expensive. You'll also inevitably lose some privacy, but as long as the care worker is respectful of boundaries and any house rules then this shouldn't be an issue.
The amount of time that you'd spend with a live-in care worker makes it important that the two of you get on. On a similar note, before allowing somebody to live in your or your loved one's home, it's crucial to make sure all checks are properly conducted, including the carer having an in-date DBS.
The home carer will also need their own room. This room should be in excellent condition with a television and internet access.
Nursing care
While care workers are trained in personal care and can perform certain medical tasks, other more advanced medical procedures require nursing care. These procedures will be carried out by a registered nurse who will visit you or your loved one at home.
Some of the tasks that specifically need nursing training and experience may include:
Treating and dressing wounds
Giving injections
Treating and managing skin problems like pressure sores or tears
Providing care for surgical procedures that require specialised training, such as tracheostomies, stomas and catheters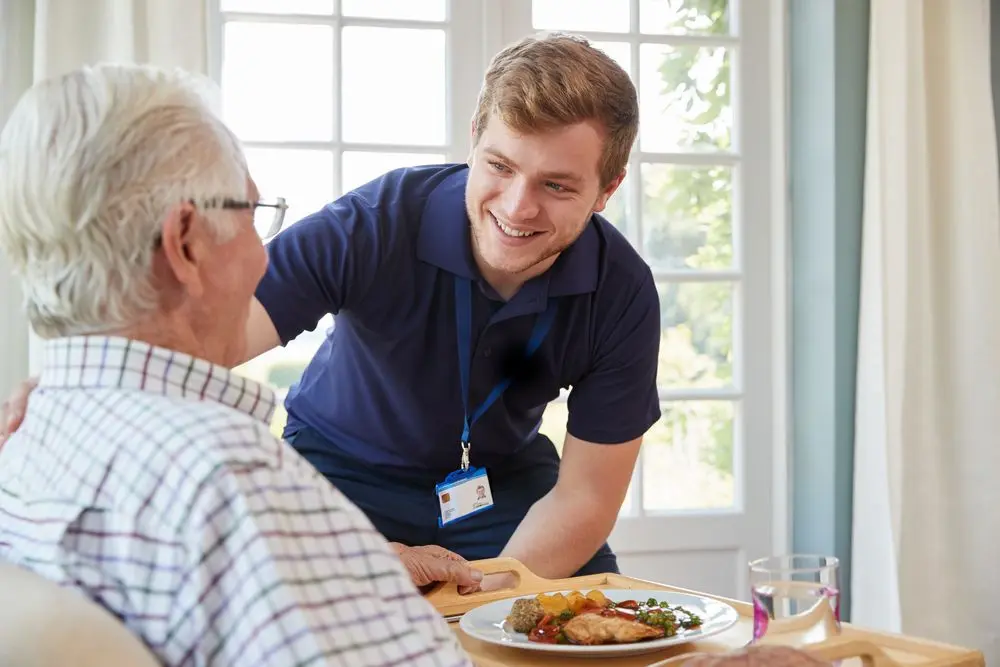 Shared lives
Shared Lives is a scheme where you or your loved one will either go and visit or begin living with a care worker. Doing this will allow you to integrate into a family and enjoy life within this family unit while also receiving whatever care and support is needed. All Shared Lives care workers are properly assessed and trained to ensure they meet the necessary care standards.
This could either be short-term or long-term:
Short-term - If you or your loved one need somewhere to temporarily live while you get back on your feet. You may have just had surgery or be recovering from an illness

Long-term - If you have an existing condition that requires care and support, or if you require extra care and support through the natural ageing process
Along with the benefits of living in a sociable home, a Shared Lives scheme will also help you maintain a routine and stay independent while learning new skills. Depending on the family, you or your loved one may even get to experience new activities, opportunities and places!
---
How to Arrange Home Care
Sorting out home care will begin with you or your loved one getting an assessment of care needs by their local council. Everyone is entitled to one of these and they won't be charged for it. This will look at several key life aspects - including physical health, mental health and general wellbeing - to work out what kind of support is needed and to what extent. A needs assessment will also provide information about different kinds of suitable help that may be available.
If you don't meet the criteria, the council will instead offer advice and information on other available options.
Apply for a needs assessment here.
If you or your loved one are assessed as having eligible needs, the local authority will then carry out a financial assessment to determine whether you qualify for financial support towards these care costs, or if you'll have to pay it yourself.
The council will then provide a written care plan or elderly care package. They may recommend help at home from a paid carer and will arrange this homecare for you or your loved one.
If you're a self-funder then you'll pay for your own care and can choose any appropriate form of care.
If you qualify for local authority support then the council may offer to arrange the service for you, whether this is through their in-house home care service, or through a commercial care agency. They may also offer a personal budget with which you can arrange whatever support is needed yourself.
Home care agencies
A home care agency employs care workers and arranges for them to visit you or your loved one. They can then perform any of the roles we listed earlier, depending on what's needed. Where nursing care is concerned, tasks must be carried out, planned or supervised by a registered nurse.
All home care agencies must register with the Care Quality Commission (CQC) who will then regulate and inspect the agencies to make sure the level of care they're providing is adequate. If a home care agency doesn't meet the CQC's minimum standards then it won't be granted registration. With that being said, these requirements don't apply to employment agencies who help people find self-employed nurses and care workers.
You can find a home care agency near you or your loved one through: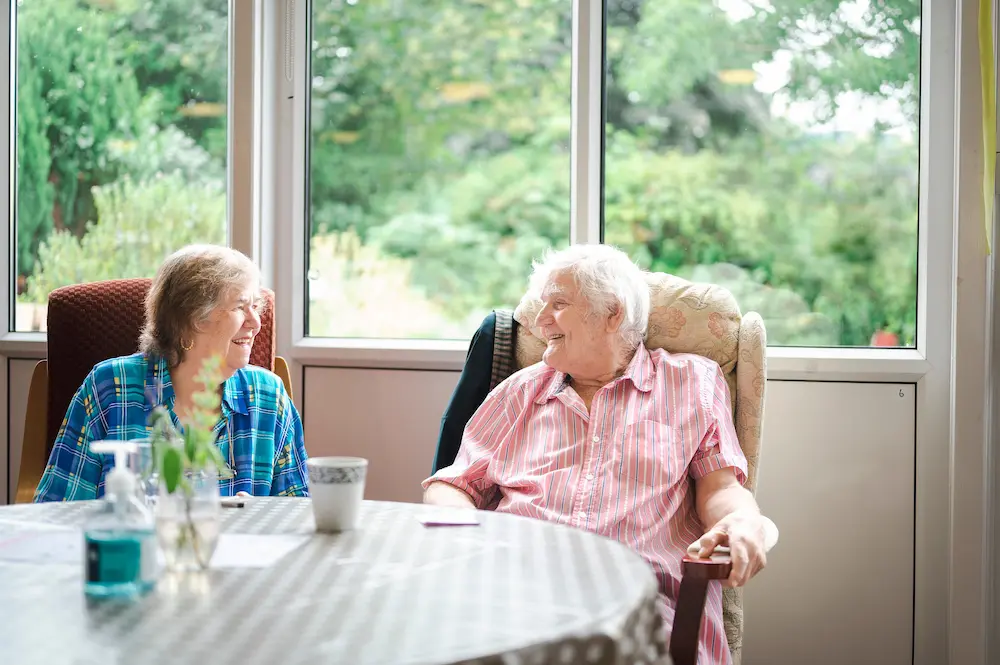 When searching for a home care agency, here are a few things to look out for and check:
What policies and procedures are in place to safeguard yourself, your loved one and their staff
Whether the staff have Disclosure and Barring Service (DBS) checks
The 'statement of purpose'. This will include any aims and objectives, who their service is aimed at and what services are provided
Who else can provide home care services?
If you or your loved one want to arrange care at home then there are several options aside from home care agencies to consider:
Private carers
You can directly employ one or more carers to provide any support you or your loved one need.
Introductory agencies
These are agencies that work a little differently from home care agencies. An introductory agency will help you or your loved one find and recruit a suitable carer or personal assistant. As a part of the service, they'll do background checks and may also provide training.
Non-profit organisations
Charities like Age UK may provide home care services nearby. Though not as regularly available, these services can often cost less than a private agency.
Family and friends
In some cases, you or someone else may have become a carer for a family member, so might be able to help out with personal care. This could either be a solution by itself, or you could pitch in alongside professional carers where possible.
Can I arrange my own home care?
If you or your loved one are assessed as needing a community care service then you may be able to choose something called 'direct payments'. These are regular payments made by the council that go directly toward you, your loved one or somebody trusted (another family member or close friend). This can then allow you or your loved one to arrange and pay for your own care.
You can apply for a needs assessment by social services here.
The Government has also introduced personal budgets. These aim to provide care seekers with greater choice and control over how they arrange and pay for social care services.
---
When Should I Consider Help at Home From a Paid Carer?
There's no set time, level of health or particular condition that should lead you or a loved one to know when to consider any form of home care. Rather, you'll get a good idea as to the right time when you feel as though extra support is needed to help with everyday tasks such as meal preparation. At this stage, receiving some additional help can prove crucial for easing any concerns surrounding ageing, while also enabling you to live life to the fullest.
A fairly common route is to initially pick a level of home care that assists with light duties such as cleaning, vacuuming and meal preparation. Over time, this level of care - along with the number of visits and their duration - may then gradually increase. For example, minimal personal care may develop into nursing or live-in care.
Though often aimed at older adults, home care can be used by anyone aged 18 or over, and can also be tailored to suit specific conditions.
---
If you're unsure what type of care you're looking for, our care experts can help you.
Finding care can be stressful and time-consuming. Thankfully, we remove much of the difficulty from this process by connecting elderly people to the UK's very best elderly care homes through smart technology and years of human expertise.
Check out Lottie and everything care-related we have to offer!