When we get older, it's normal to find everyday tasks more difficult, including cooking, cleaning, laundry and other household chores.
When it comes to mealtimes, we all know the feeling of looking forward to a delicious hot meal, but many elderly people are too tired or frustrated to cook their own meals, or no longer can due to a disability or reduced mobility.
For this reason, services like meal deliveries can be a lifesaver; providing elderly people with healthy, balanced meals delivered straight to the door that require little prep and time - often all you have to do is pop the meal in the microwave or oven for just a few minutes, then enjoy.
If this sounds like something you'd be interested in, to discover some of the best ready meals delivered for the elderly, read on to learn more.
Learn more about Lottie
Compare local care services or discover your dream retirement home.
Browse Lottie
---
In this article on the best meal delivery services for the elderly:
---
Why Use Meal Delivery Services?
Some of the side effects of age include impaired vision and mobility - which obviously isn't ideal when trying to read labels in the food cupboard or whizzing around the kitchen preparing meals.
Paired with fatigue, creaky joints and sore backs, it's no wonder older people tend to find cooking tiresome.
Unfortunately, lots of elderly people turn to unhealthy diets to make life easier; including highly processed foods like ready meals and snacks like crisps, nuts and biscuits. Some lucky elderly people might have family and friends to cook for them, but sometimes meal delivery services provide a better option.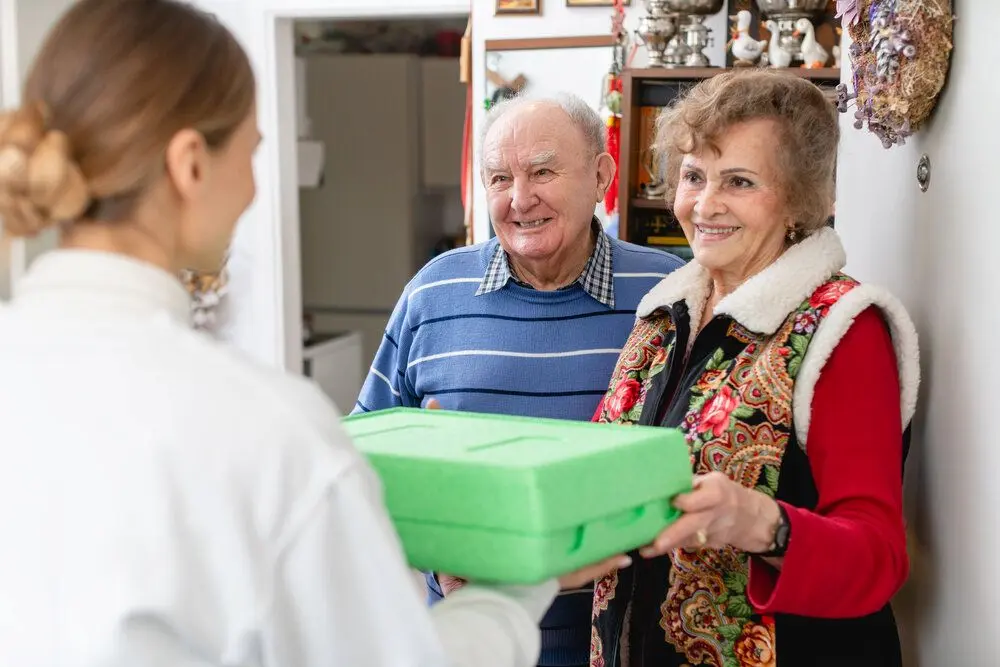 ---
Pros Of Meal Deliveries
Meal deliveries of the past used to be bland and boring, but these days there are so many different options available. These are just a few of the benefits of using a meal delivery service:
Quick, easy and convenient

Reduces stress or anxiety about food shopping

No need to do big food shops

No need for meal preparation or to spend hours in the kitchen

Healthy and balanced meals, plus snacks - so you can't go off-plan

You might try foods you've never tried before

Less food waste - you only eat the meals you're given
Cons Of Meal Deliveries
However, before you grab your pen and start signing up, it's worth considering that there can be a few drawbacks to meal delivery services, such as:
Cost - meal deliveries can work out more expensive than a weekly food shop, or price per meal

Choice - by using a meal delivery service, you will have to stick to the meals you are given and have less free choice for your meals

If ordering a hot meal, food may arrive cold

You have to rely on the meals being delivered when you want them

Food delivery services sometimes contribute to feelings of isolation
However, if you live on your own or with a partner and you are both struggling to food shop, prepare food or cook it without help, we'd say meal delivery services would be a great solution!
---
Types of Meals - Hot Meal, Frozen Meals and Dietary Requirements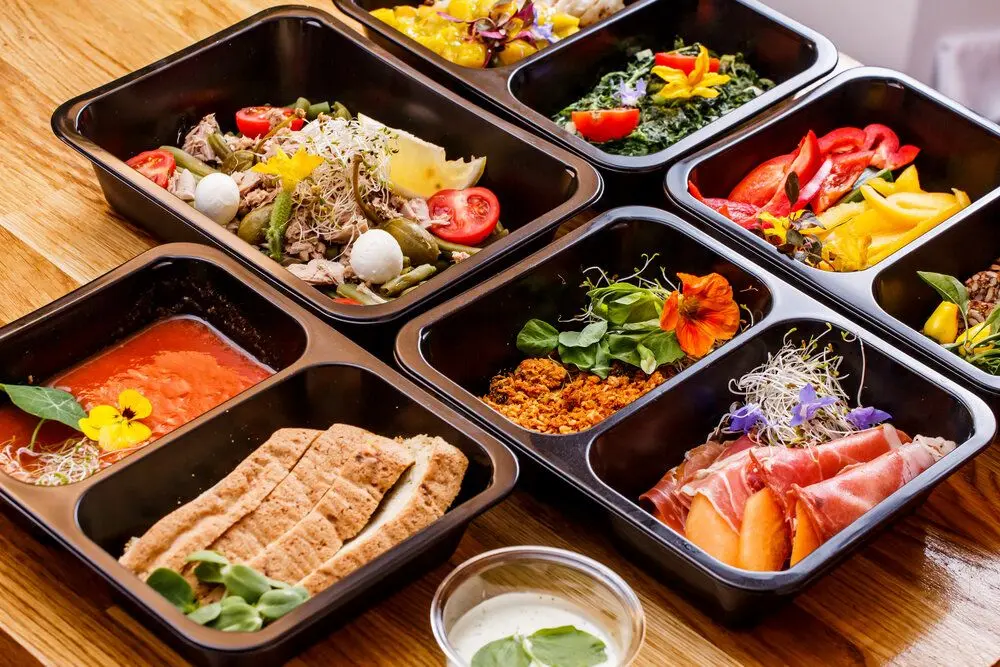 Most meal delivery companies offer a wide range of options that cater to all types of diets, including vegetarian, vegan, coeliac or gluten-free, diabetic, kosher, halal and more - so if you follow a certain type of diet, it's likely you'll be able to find something to suit you. There are also options to have either frozen, ready-to-cook or even hot ready meals delivered.
Keep reading to discover seven of our top picks.
---
7 Great Meal Delivery Services To Try
1. Parsley Box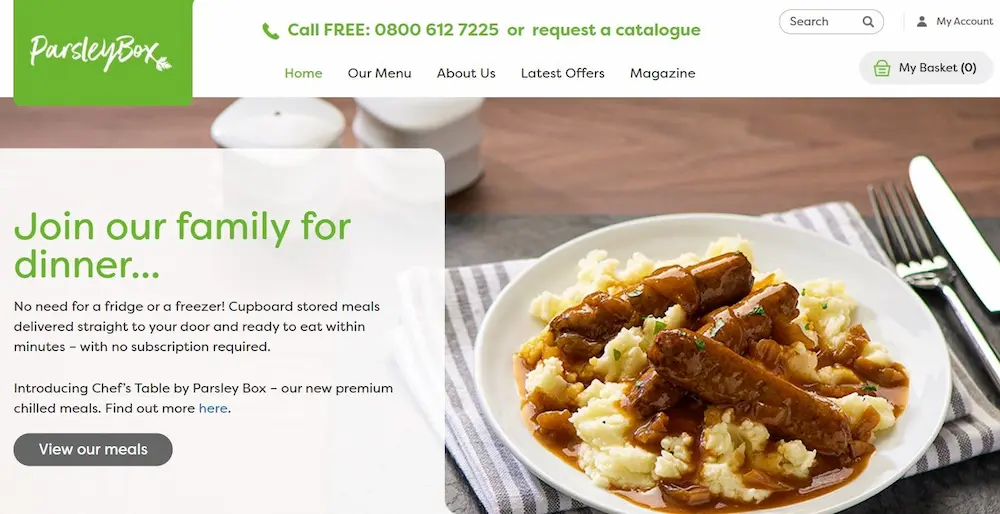 Dietary options: Gluten-free
Parsley Box was created by founders Adrienne and Gordon and delivers healthy microwavable meals that can be stored for up to six months in your cupboard, meaning your fridge and freezer won't be jammed full!
All Parsley Box meals are specially cooked in UK kitchens and carefully sealed and slow-cooked using a vacuum to ensure none of the flavour and nutrients are lost from the food.
Further, you don't need to sign up for a subscription, meaning you can try the meals to see if you like them before deciding to buy more.
Meals can be ordered online, via phone or by post and there is free delivery on orders over £29.
2. Wiltshire Farm Foods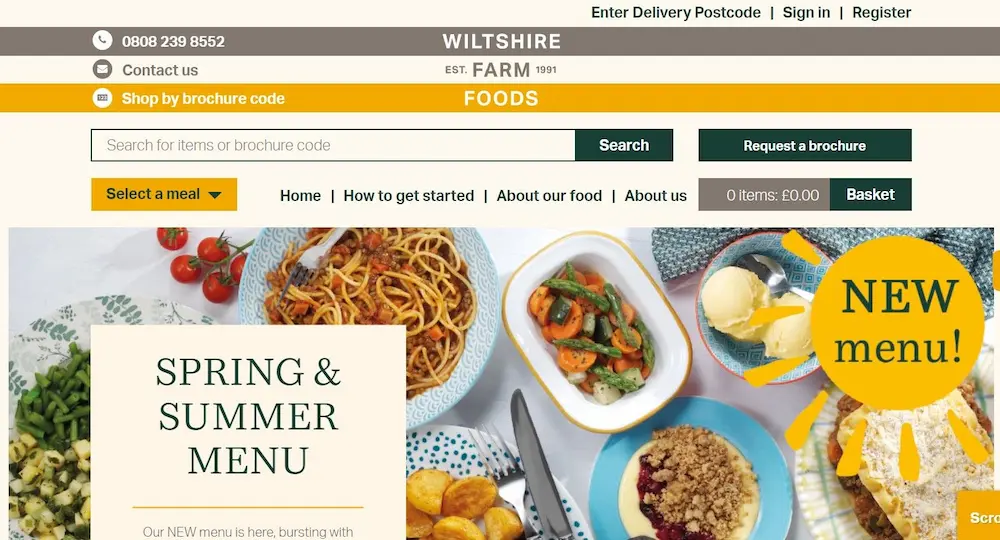 Dietary options: Gluten-free, dairy-free, low fat, free from options (e.g. soy, mustard)
Wiltshire Farm Foods have been in the meal delivery business for 30 years and offer a range of tasty frozen ready meals cooked by award-winning chefs, with over 330 recipes to choose from!
You can even select from three different meal sizes; standard, hearty and mini - and there are new menus for each season all the time to keep the options fresh.
To find out whether Wiltshire Farm Foods deliver meals to your area, head to the website and enter your postcode in the Find Delivery Days box on the homepage.
Meals can be ordered online or by phone. You won't be tied into a contract either, so you can start and stop deliveries whenever you choose.
3. Apetito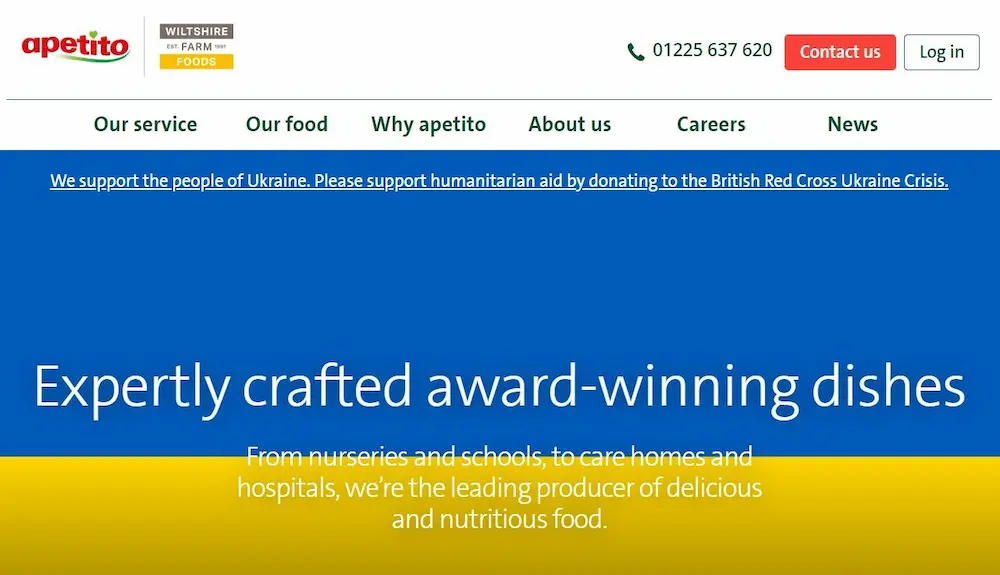 Dietary options: Vegetarian, vegan, low-fat, gluten-free, dysphagia-friendly, kosher, halal
Apetito works in collaboration with Wiltshire Farm Foods to offer a Hot Meals on Wheels service. To sign up, you'll need to get in touch with your local council and you'll receive nutritious meals until you request an amendment or cancellation, which can be done at any time.
There are around 200 different meal options on offer from Apetito, which all use sustainably sourced fresh ingredients where possible. Choose from tasty cooked breakfasts to main meals and hot and cold desserts to finger foods - with low salt, low sugar and reduced sugar options available for many meals.
4. Oakhouse Foods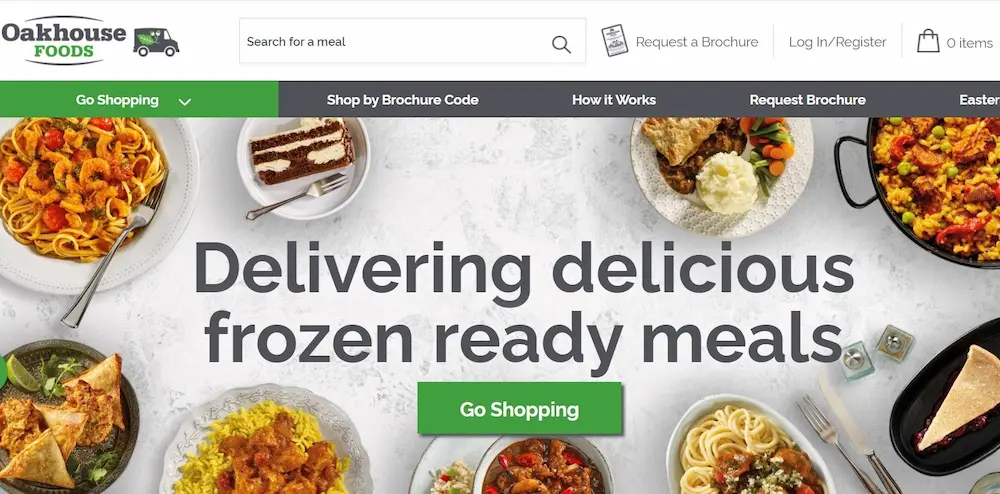 Dietary options: Vegetarian
Oakhouse Foods have been around since 1994, providing healthy and delicious meals to be enjoyed at your convenience. All you need to do is put the frozen meals in the microwave or oven, sit back and relax.
There are over 350 frozen meals and desserts to choose from! You can even choose mini-meals, soups and light meals if you don't have as much of an appetite, as well as puréed meals, soft and bite-sized meals and minced and moist meals to make eating easier.
Either get online to start ordering, pick up the phone or request a free brochure in the post - there are free audio brochures and a large print order form too. Customers have the freedom to order often or as little as they like, without a need to commit.
When your order arrives, the Oakhouse delivery drivers are all super friendly and will even pack your meals away for you!
5. COOK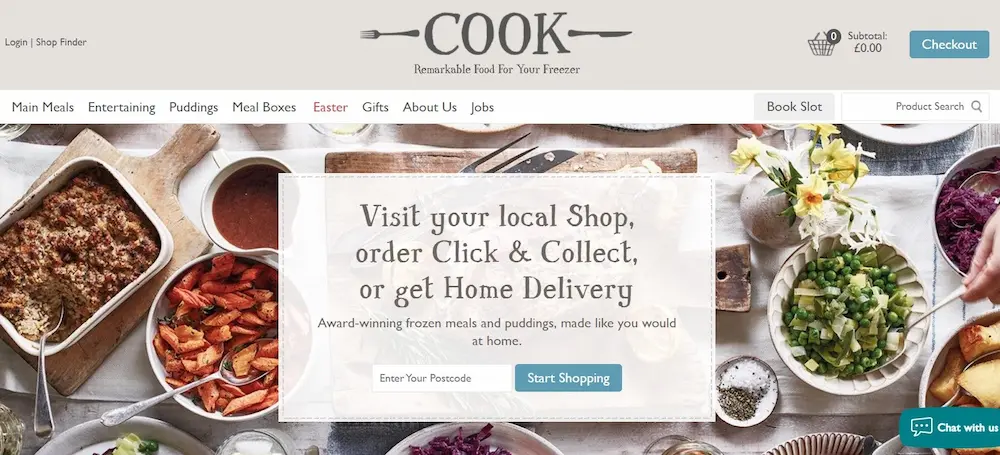 Dietary options: Vegetarian, vegan, dairy-free, gluten-free
COOK was started in 1997 by founders Ed and Dale and has since grown to 90 shops across the UK and a meal delivery service. COOK's high-quality meals are lovingly cooked and frozen to seal in flavours and nutrients, before being microwaved or put in the oven when they get to you.
You'll be spoilt for choice with the range of meal options from COOK, including healthy options, veggie and vegan meals, cosy night in meals and sweet and savoury snacks. You can order the Taster Pack, which includes seven favourite meals if you're interested in trying COOK but aren't sure whether you want to commit.
To find out whether COOK delivers to you, simply enter your postcode on the website and find out how much you need to spend to get free delivery, as well as info on click and collect options. If you live near a COOK shop, your meals can be delivered from there.
6. I Care Cuisine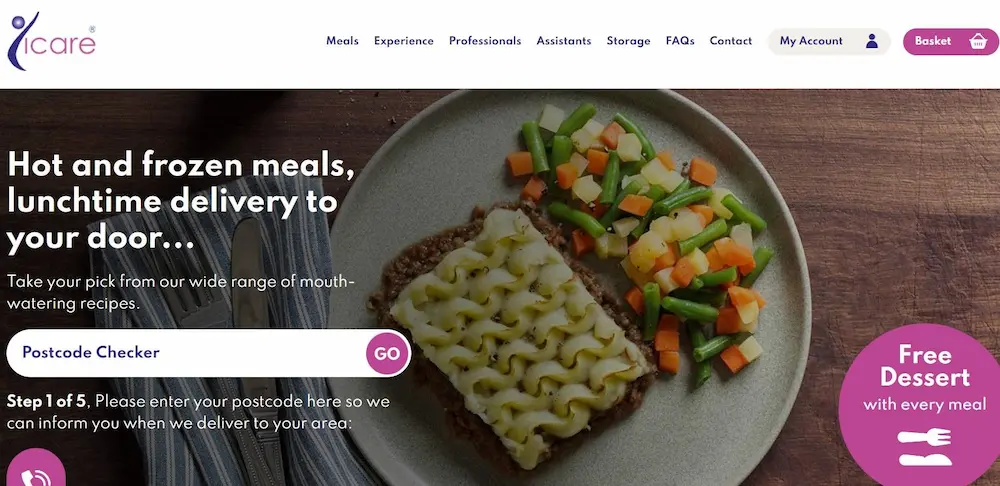 Dietary options: Vegetarian, halal, kosher, low-fat, lactose-free
ICare Cuisine prepares and delivers mouth-watering meals that are made using only the freshest ingredients. Select between hot or frozen meals, as well as tea time sandwiches and hot and cold desserts. ICare also offers low sugar, low salt, low saturated fat, low calorie and easy chew options, plus Caribbean and Asian vegetarian options too.
It couldn't be easier to order meal deliveries from ICare - head to the homepage where you'll find a postcode checker right there to see whether they deliver to your area. Meal delivery staff are always fully credited and can even be relied on to help customers with their menu choices, keep an eye on their wellbeing, and provide a familiar face to those who feel lonely or vulnerable.
7. Tiptree Meals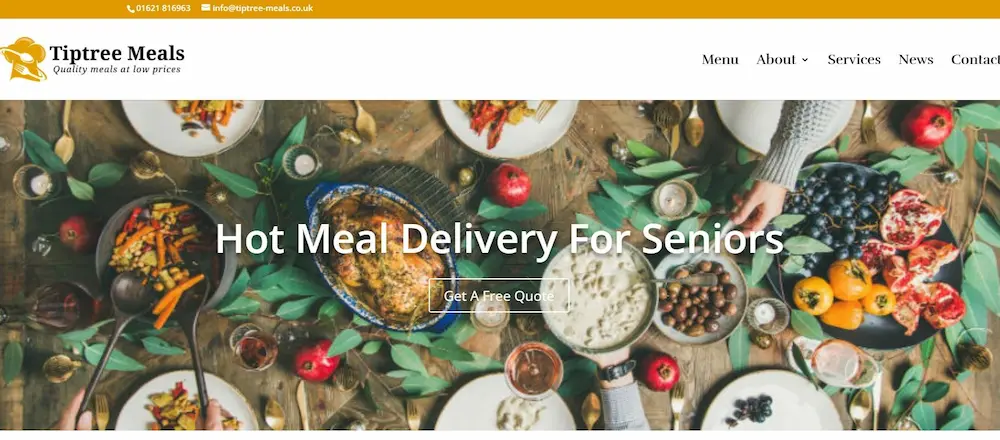 Dietary options: Vegetarian, vegan
Tiptree meals have been providing meals for the elderly for 32 years, as well as serving day centres, schools and nursery schools.
Tiptree prepares hot meals that run on a four-week menu and meals are delivered straight to your door. All meals are prepared fresh in-house on the day of delivery and contain all the nutrients elderly people need while still being delicious to eat. You can also choose frozen meals and chilled meals for convenience.
The varied menu includes a range of main meals and desserts, as well as a special midweek roast - and if you are vegetarian or vegan, you can call up to discuss your options. Tiptree also offers help with shopping, ironing and catering if you or your loved one requires some extra support.
To find out whether Tiptree delivers in your area, head to the website for more information.
---
Healthy Diet Guide For Elderly People
When we get older, eating a healthy balanced diet is still just as important as it is when we're young. A balanced diet should contain the right amounts of carbohydrates, protein and a rainbow of fruits and vegetables.
Elderly people should also be eating plenty of fish and nuts, which have been proven to aid inflammation, vision and reduce the risk of Alzheimer's disease, as well as lots of fibre which is found in whole grains, fruit and veg and nuts. These fibre-rich foods are an important digestive aid and support gastrointestinal health, while leafy greens and vegetables contain high levels of calcium, which helps to strengthen bones and keeps blood pressure down.
If you or your elderly loved ones are going to start using a meal delivery service, they should be ordering a range of healthy, nutritionally balanced meals to eat three times a day, as well as snacks if they need them.
Although it's important to eat healthily, a few desserts or treats give you something to look forward to, so don't cut these out entirely.
---
We're on a mission to support individuals and their loved ones throughout each stage of their later living journey. For more information, check out everything Lottie has to offer.