If you or your loved one are disabled or have a health condition that limits your mobility, you may be able to apply for a Blue Badge. This benefit scheme allows you to park nearer to your destination.
Follow the advice on this page to learn more about what a Blue Badge is, whether you're eligible, how to make a Blue Badge application and when to renew.
Learn more about Lottie
Compare local care services or discover your dream retirement home.
Browse Lottie
---
In this article:
---
What is a Blue Badge?
If you're disabled or have a mobility-limiting health condition, you can apply for or renew the Blue Badge scheme. You can also apply if you care for a child with a health condition that limits mobility. You don't need to be able to drive to apply, unless you're applying because of problems with your arms.
A Blue Badge can grant you exemptions from some parking restrictions while also giving you access to designated parking spaces.
This badge is for your use only. For example, if somebody else is picking you up or dropping you off, they'll be able to use it, but you can't lend it to someone to go and run errands for you.
If you get certain benefits (such as some care home benefits), you'll automatically be eligible.
Councils can charge up to £10 for a Blue Badge in England and up to £20 in Scotland, while they're free in Wales.
Contact your local council to learn more about the Blue Badge scheme.
Where can I park with a blue badge?
Holders are exempt from certain parking restrictions. They're allowed to park:
Free of charge at on-street parking meters and in Pay and Display bays
On single or double yellow lines for up to 3 hours (except where there's a ban on loading or unloading)
Some local councils place additional restrictions on Blue Badge holders. With this in mind, you should check with the local council in the place you're travelling to understand what their rules are.
This scheme also doesn't apply in certain London boroughs, as these have their own parking rules.
To find Blue Badge parking bays across the UK, use the GOV.UK website for council information.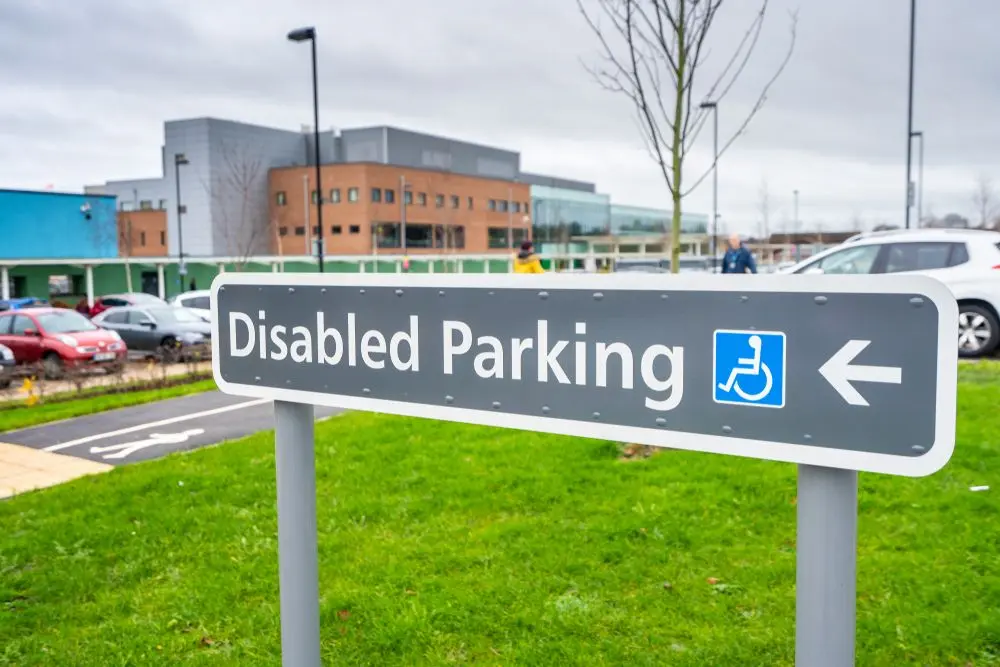 ---
Who Can Get a Blue Badge
Here are the main circumstances where you automatically qualify:
You have a permanent and substantial disability that means you're unable to walk or have considerable difficulty doing so (you may have to be assessed by a physiotherapist or occupational therapist to show this applies to you)
You're registered as blind
You get the higher rate of the mobility component of Disability Living Allowance (check your decision letter if you aren't sure about what the mobility component is)
You get War Pensioner's Mobility Supplement
You received a lump sum benefit through the Armed Forces Compensation scheme (tariffs 1 to 8) and have been classed as having a 'permanent and substantial' disability
If you get Personal Independence Payment (PIP)
You also automatically qualify if you either:
Scored 8+ points in the 'moving around' part of your Personal Independence Payment assessment
Scored 10 points in the 'planning and following journeys' part of your Personal Independence Payment assessment and were put in Category E
Here's the list of medical conditions that are eligible for PIP in the UK.
Receiving Personal Independence Payment could entitle you to a number of other PIP freebies as well.
---
Applying For a Blue Badge Online
You can apply for or renew your Blue Badge online through GOV.UK.
Some councils also let you apply using a paper form - contact your local council to check.
You have to apply through your local council. They might also arrange an appointment to visit you.
When applying, be aware that only your local council or GOV.UK can issue you a genuine blue badge.
When applying by post
If applying by post, send copies of your documents rather than originals (in case your application is lost in the post).
You'll need to get the copy of your proof of identification checked by a professional such as a solicitor. Some people might charge to certify a document.
They should sign the copy and write on it:
The words 'This copy is a true likeness of the original'
Their name, address and occupation
The date
Depending on your council and whether you require any further assessments, it can take up to three months to process your application. Be sure to ask how long it's likely to take when applying.
---
How To Renew Your Blue Badge
If you're a current blue badge holder, this will need renewing after 3 years. You'll also need to reapply for a badge if you no longer get the benefit your badge is linked to.
You can renew your Blue Badge online through GOV.UK (or check the expiry date).
You can also renew your badge through some local councils using a paper form. Get in touch with your local council to check if this is possible.
If you no longer require your badge (such as if your condition improves), you must give it back to the council. You could be fined up to £1,000 if you don't.
---
We're on a mission to support individuals and their loved ones throughout each stage of their later living journey. For more information, check out everything Lottie has to offer.